Description
The Ice Well facility is a resource available to the Ice Drilling Program team as well as NSF funded scientists. It is co-located with the Physical Sciences Lab (PSL) and Wisconsin IceCube Particle Astrophysics Center (WIPAC) facilities at the University of Wisconsin-Madison. Among many potential uses for the 50-foot ice column, three of the most common are highlighted below.
Equipment Testing and Validation - The facility allows for full-scale testing of equipment and substantial facilities, engineering expertise and commercial resources exist to make equipment modifications in near real time. Full-scale testing along with the ability to make rapid design iterations result in efficient and effective equipment development.
Training - Field campaigns and logistics in remote locations severely limit the opportunities to deploy additional people for training. The Ice Well facility provides an invaluable and cost-effective opportunity to cross-train operators on a variety of equipment.
Technology Development - Testing opportunities in the Arctic and Antarctic are limited. The Ice Well facility may help to greatly reduce schedule and cost for technology development including equipment innovations and scientific studies such as ice cracking, optical clarity, and pressure-venting techniques.
The following is some useful information to address questions that may be asked by the community prior to use of the Ice Well facility.
Ice Well Specifications
Ice Column Diameter: 10 inches
Ice Column Length: 560 inches (46.7 ft.; 14.2 m)
Minimum Ice Temperature: -20°C
Re-freeze Time: Small diameter bores can be refrozen in less than 2 days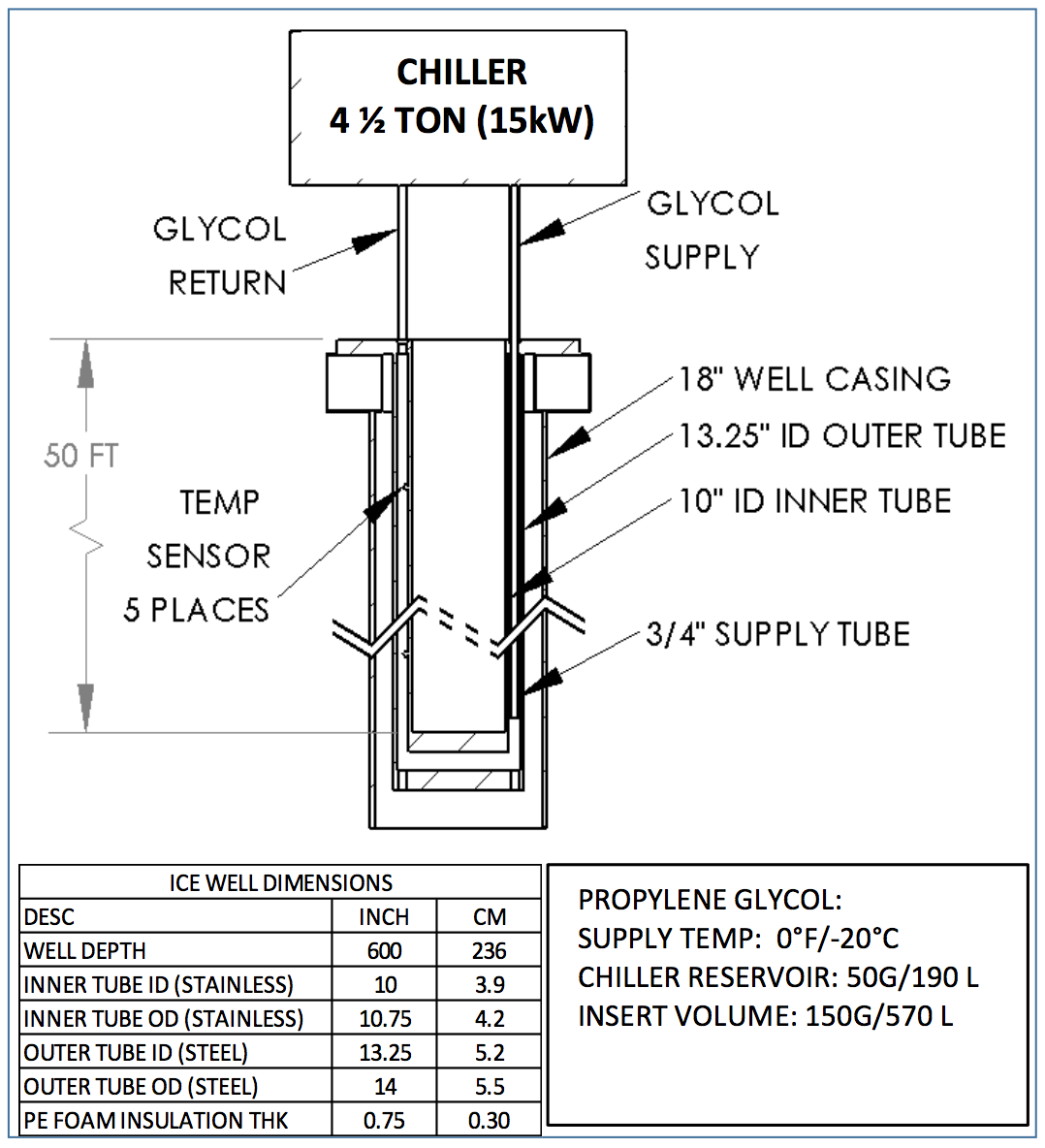 Ice Well Location
University of Wisconsin-Madison
3725 Schneider Drive
Stoughton, WI 53589
IDP-Wisconsin Home Office
University of Wisconsin-Madison
AOSS/SSEC Building
1225 W. Dayton Street
12th Floor
Madison, WI 53706
Coordination
Please coordinate all testing with IDP; email: IceDrill@Dartmouth.edu
Actual testing of your equipment can be performed under the guidance and assistance of an IDP engineer.
Prior to the testing, investigators should draft a test plan, outlining their desired objectives for the testing, any connectivity or power requirements and any safety concerns or other questions.
An IDP engineer will review the plan and will discuss any questions or concerns with the investigator.
Both the IDP engineer and the investigator will approve the test plan prior to initiating the testing.
Safety Information
The Ice Well is an active equipment development, training and test facility. All posted signage, as well as instructions from IDP staff, shall be observed at all times.
Personal Protective Equipment (PPE) is available for your use, if desired or necessary (e.g. ear plugs, safety glasses, etc.).
Investigators shall understand that testing their equipment in the ice well can potentially be destructive. IDP is not responsible for any damages that occur to the equipment being tested.
Any questions or concerns should be addressed with IDP prior to the testing.
Travel Information
Investigators are responsible for making all travel arrangements and for payment of all arrangements.
Lodging

A near-by hotel is the Sleep Inn at 4802 Tradewinds Pkwy, Madison, WI 53718; (608) 221-8100 (limited dining options).
Madison has numerous other hotel options that may also serve your travel.

Additional travel information
Proposed Future Construction: 45m x Ø75cm
FACILITY DESCRIPTION: Future construction may include a larger, watertight, cased borehole nominally 45 meters (150 feet) deep with an ice diameter of 60 to 75 centimeters (24 to 30 inches). Minimal and versatile infrastructure to support testing, training and technology development would be included. The major down-hole and surface components of a future, larger Ice Well are shown below.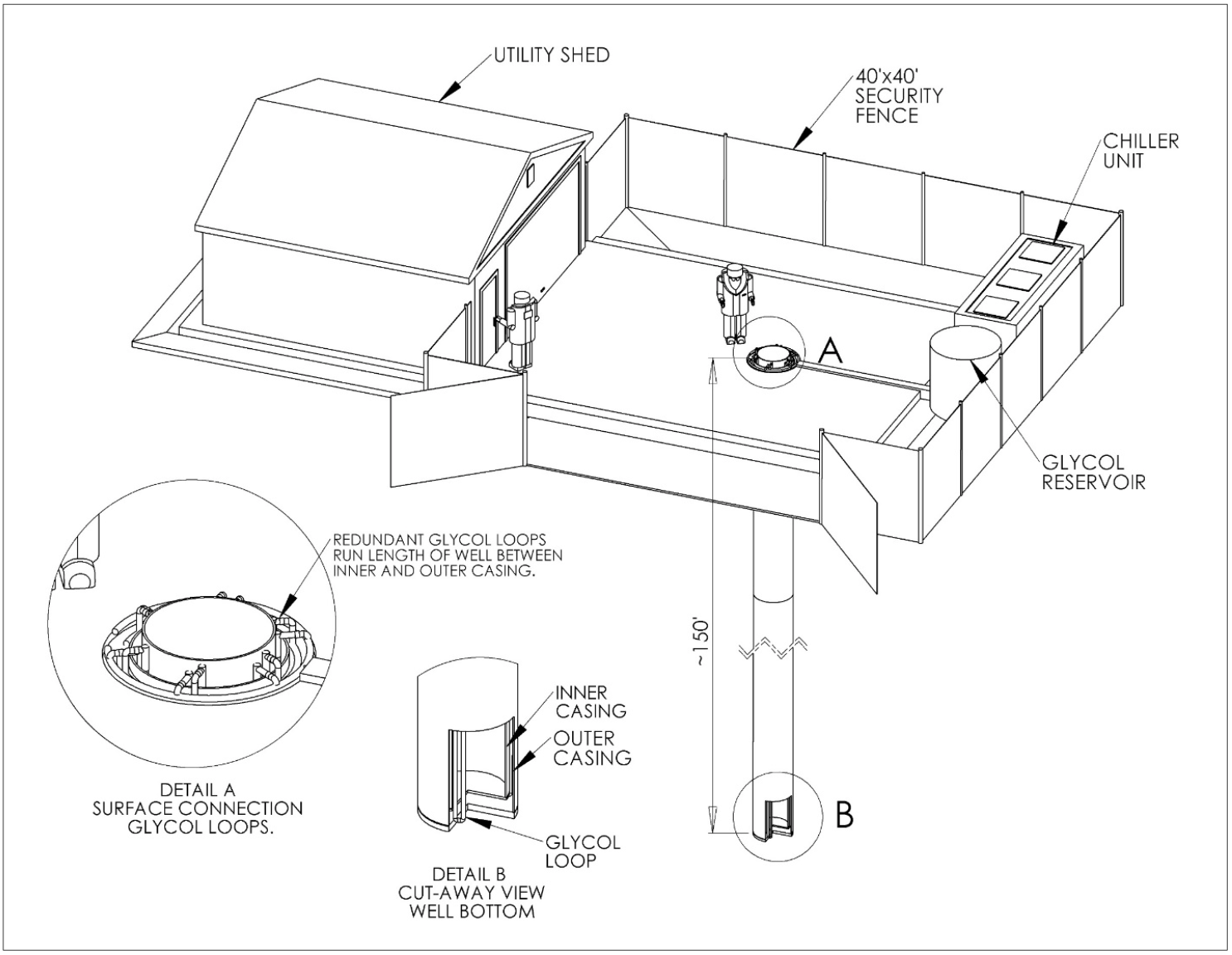 FACILITY SIZING: Diameter and depth requirements for various systems are represented as data points in the figure below. Error bars show the range of "minimally-acceptable" to "ideal" dimensions. Mechanical Drills shown represent 11 existing and proposed IDP drill systems. Hot Water Drills represent 5 existing and proposed systems from IDP, PSL and IceCube. Other equipment captures borehole logging tools, EHWD components, and the existing IDP Thermal Drill.
(DISC = Deep Ice Sheet Coring Drill; ScHWD = Scalable Hot Water Drill; EHWD = Enhanced Hot Water Drill)
Request More Information
Have a question or require more information?